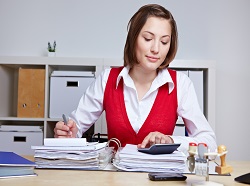 As SMSF trustee, it is your job to authorize the payments and transfers of money and approve year- end financial statements and tax returns. Superannuation is highly regulated and complex industry that needs an expert knowledge and experience.
We can help you in the administration of your fund by:
Preparation of all the accounting records for the year for SMSF.
Preparing year-end financial statements
Preparing and filing of funds SMSF annual return
Preparing an annual actuarial certificate, where required.
Maintaining of paperwork and computation in relation to commencement and maintenance of pension
Complying with the ATO on various issues
Preparation and filing of Installment Activity Statement and PAYG returns for pensions and lump sum withdrawal (as required by law)
Regular reporting of funds transactions, including monthly bank reconciliation.
Ongoing maintaining of contribution limits and pensions levels
Monitoring of fund investments including full capital gains tax history.
Receiving automatic alerts by email, SMS for important fund events such as tax payment, due date of filing of return etc.
If you are currently with some other service provider for your SMSF administration work, it is also possible to shift your administration, accounting and taxation function to us and in a few easy steps.
It requires the collection of important documentation to enable us to complete your fund annual accounts and statutory reporting and contains both past information and current financial year documents.
Past Documentation data
Copy of trust deed properly executed.
Member/ trustee information such as tax file declaration, trustee Declaration and Binding Death Benefit Nomination.
Last year's financial statements & annual tax returns and all other relevant documents
Current Financial year documentation:
Data regarding Rollover
Contributions
Pension payments and Lump sum withdrawal
Detail of all the expenses incurred and investment income
Detail of all the investments acquired and disposed during the year.
(Above list is only indicative and documents required may vary depending upon the circumstances of individual funds).