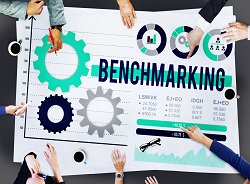 To stay competitive in the ever-changing business environment, you need to know what's going on in your industry. Are you spending enough on advertising? Are your staff costs too high? Are you under or overcharging your customers? How your business is faring compared to your competitors in terms of costs and profitability? We can provide you with accurate, timely and informative benchmarking reports.
This will allow you to:
See how your business compares against your competitors
Understand how the rest of your industry works
Analyse the key performance indicators of your industry Armed with this information, we'll work with you to develop action strategies to improve your bottom line. Survival in today's business climate requires you to spend more time working ON your business rather than working IN the business. By benchmarking your business using our tested methodology, you'll be able to make informed decisions to increase your competitive advantage.
What is Benchmarking ?
Benchmarking is a way of assessing your business' performance by comparison. Contrasted to comparing your financial results with the internal data like established budgets and past performances, benchmarking involves comparing your performance with others in your industry.
The purpose is to measure yourself against the best or industry standards. Benchmarking also help you to assess where other businesses are doing things differently which may help you to improve your own business practices and thus results.
Benchmarking Aspects
You can benchmark your business against a variety of aspects including but not limited to;
Sales and turnover
Profitability
Key performance indicators such as Gross Profit ratio, Net Profit ratio, Staff costs to turnover etc.
Pricing structure
Ratio of expenses and overheads
Customer count
Staff attrition
Benchmarking is of limited value unless the results are used to improve your business. Having identified the weak areas in business, the next step is to make changes to strengthen those areas. We generate comparative reports and graphs that are easy to understand and we spend time with you making sure that you understand your industry averages and analysis. Talk to us today about how we can benchmark your business and use the data to improve your business performance.