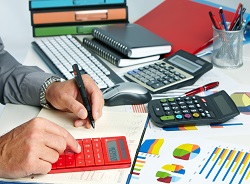 We believe that efficient bookkeeping is the key to any successful business. We can help you maintain accurate records of all your financial affairs and transactions enabling you stay on top of your affairs.
We specialize in the preparation and analysis of annual financial accounts and regular management accounts. We offer precisely the level of assistance you need in the preparation of your accounts; be it weekly, monthly, quarterly, or yearly.
Our extensive experience in this area covers all kinds of organisations, including companies, partnerships, trusts, sole traders and other business entities.
We can assist you with:
• Preparation of financial accounts compliant with the relevant statutory Requirements
• Preparation of annual financial budgets
• Identification of key performance indicators (KPI's)
• Establishing effective credit control procedures
• Creation of financial models to present projections of profitability and cash flow
• Selection, installation and training of accounting software
Softwares we use :

Xero
Quickbooks
Saasu
MYOB
HandiLedger